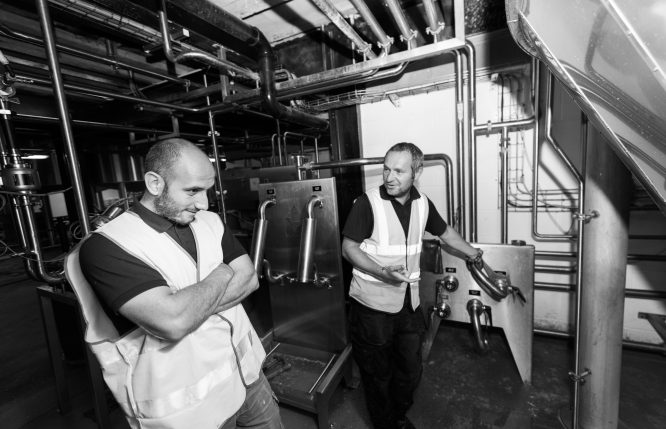 July 5, 2018
MOORHOUSE'S AND NORTHERN WHISPER BEER COLLABORATION
In a month dominated by football, Burnley-based Moorhouse's Brewery and Rossendale's Northern Whisper Brewing Co. have joined forces to produce home and away, limited-edition beer collaboration.
Oatmeal Pale Ale (3.5% ABV), which will launch on 9th July has been created by Northern Whisper Brewing Co.'s head brewer, Carmelo Pillitteri and will be brewed by Moorhouse's Brewery. In response, Moorhouse's Brewery's head brewer, Dan Casaru has created Blood Orange & Pineapple IPA (5.0% ABV), which will be brewed by Northern Whisper Brewing Co. and available from 24th July. The collaboration follows a chance conversation between the two Lancashire brewers which led to the plan to swap recipes and produce one brew each at their respective 'home grounds'.
The partnership sees the breweries come together to create two very different styles of beer. The Oatmeal Pale Ale is a cask beer packed full of US hops to give it a floral, grassy aroma and lip smacking citrus flavour; combined with a defined oat character to deliver a juicy, moreish and quenching beer. The bold tasting, keg craft beer, Blood Orange & Pineapple IPA is packed with Amarillo and Citra late hop, with an infusion of Blood Orange and Pineapple fruit for a zingy citrus and tropical punch.
Moorhouse's managing director, Lee Williams, commented: "I really like what Carmelo has done at Northern Whisper and it's been a great beer collaboration, the first of many I hope. We've already taken pre-orders for the beers and I know he's quite happy with the exposure and new business Northern Whisper is getting across our Free Trade. Meanwhile our brewers had a great time brewing our Blood Orange and Pineapple IPA on his kit. It's another keg beer from us and it all adds to the mix".
Northern Whisper Head Brewer, Carmelo Pillitteri, added: "It's fantastic to work with an established brewery like Moorhouse's and it's great to see how they operate. For us, sharing new ideas and recipes has been important and we're pleased to see that our thoughts for the beers worked well together.
"We've had Moorhouse's brewers come to Northern Whisper to try out our kit, which they loved; we really feel that stockists and drinkers alike will benefit from the partnership."
The collaboration further reinforces a positive 2018 for both businesses. Earlier this year, Moorhouse's Brewery announced it was launching a series of new hop-forward keg beers and unveiled a new look for its much-loved cask beers. Northern Whisper Brewing Co. recently opened a new 'chatterbox' bar and bottle shop at its brewery in Cloughfold, Rawtenstall to mark its first birthday.
For more information on Moorhouse's Brewery visit: https://www.moorhouses.co.uk/
Learn more about Northern Whisper visit: http://northernwhisperbrewingco.co.uk/