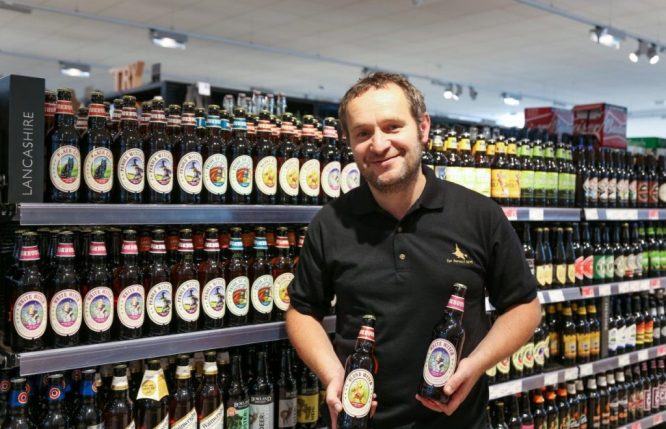 August 14, 2017
Moorhouse's magic wins double international success
Moorhouse's Brewery is toasting a double international awards success for its celebrated bottled beer range.
The leading Lancashire brewery has claimed accolades for White Witch and Blond Witch at the fiercely contested International Beer Challenge (IBC) 2017 and the equally competitive World Beer Awards (WBA) 2017.
The prestigious awards are expected to further boost sales for the golden ale brands – now on the shelves of the major supermarkets and convenience stores in Moorhouse's heartland, including Booths, the north-west grocery chain (see photograph), Tesco, ASDA, Morrison's, SPAR and Aldi.
Moorhouse's head brewer Dan Casaru said: "We only entered these two beers so to get these international accolades for both is a terrific indictment to our brewing credentials. Golden ales are increasingly popular, so it is really rewarding to see our beers win against such fierce opposition."
Attracting entries from 30 countries in over 69 categories, the rigorous IBC awards acknowledge the skill of the brewer and are an internationally recognised symbol of quality for retailers, restaurateurs, bar owners and wholesalers. Judges include retailers, importers, publicans, brewers and bloggers all headed by leading beer writer Jeff Evans.
Lee Williams, Moorhouse's managing director, said: "Every brewer will claim to have a quality range but for me these prestigious awards are all about others from within our industry recognising that our beers really do stand out above the competition. Hats off to Dan and his team and the magic they're creating in our brewhouse".