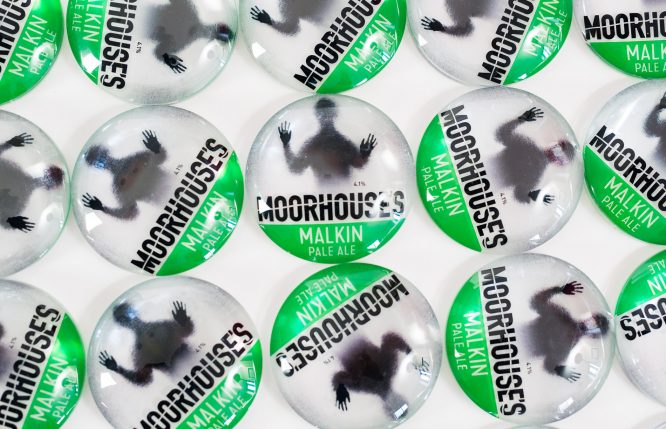 March 26, 2018
MOORHOUSE'S BREWERY STEPS INTO CRAFT BEER SPOTLIGHT
This year is set to be a transformative one for Moorhouse's Brewery.
As it launches a series of new hop-forward keg craft beers and an innovative Botanical range. They also unveil a new look for its much-loved cask beers, all aimed at broadening its appeal to a wider audience.
The Burnley-based brewery, drawing on its strong reputation for quality cask beers all brewed in the shadow of Pendle Hill, will launch its first ever keg craft beer, MALKIN Pale Ale in April 2018. Available in 30l keg and featuring an innovative 3D lens label to standout, the 4.1% ABV beer has been brewed with Citra, Eldorado, Calypso and Cascade hops. These give it a distinct grapefruit aroma with bright orange, mango and pear like flavours throughout. A 330ml can of MALKIN Pale Ale will launch in the summer.
Hot on the heels of MALKIN Pale Ale, will be SABBATH FLIGHT. A 5.0% ABV keg American Pale Ale, which will also launch in April. A collaborative lager, will be added to the brewery's repertoire over the summer. Completing the new portfolio of products is Moorhouse's Botanical range. Launching in 330ml cans in the autumn, the unique range has been inspired by the brewery's history when founder, William Moorhouse, began brewing lower alcohol hop bitters and botanical beers for the temperance movement.
The launch comes as managing director, Lee Williams marks his first year in the role. Williams said: "The Moorhouse's brand is synonymous with brewing quality; it's one of the reasons I was excited to work with the business. I wanted to harness that and challenge the brewers to create new styles that fit a modern brief alongside our much-loved existing cask range."
Product development is at the heart of Moorhouse's new strategy, and one of the first initiatives was installing a pilot brewery, M1, to provide head brewer, Dan Casaru and his team with the tools to experiment and create small batch brews.
Williams continued: "The new beers, along with established favourites and pilot runs, will ensure that we can offer a choice of beers and styles to our drinkers and importantly not just in cask but keg and can for the first time."
Moorhouse's has also invested significantly in rebranding, working closely with leading brand design consultants, WPA Pinfold. To create a modern, standout look for both existing and new lines, including Blonde Witch and White Witch. The designs have been inspired by the stories and legends of Pendle Hill.
Commenting on the background to the new look, Williams added; "Although keen to stay true to our roots, it's imperative that Moorhouse's develops a reputation for being forward-thinking and respected for what it does best. Our brand image has been outdated for too-long and our products lost in a crowded market. The new look will stand out for all the right reasons now and broaden our appeal. It's an opportunity for customers and drinkers to reappraise Moorhouse's as a brewer."
The new beers and revitalised branding will be underpinned with a sales and marketing strategy to elevate awareness and increase availability. Activity will initially commence with Tap Takeovers in over 50 pubs and bars across the North West and Yorkshire from April, all supported on social media.