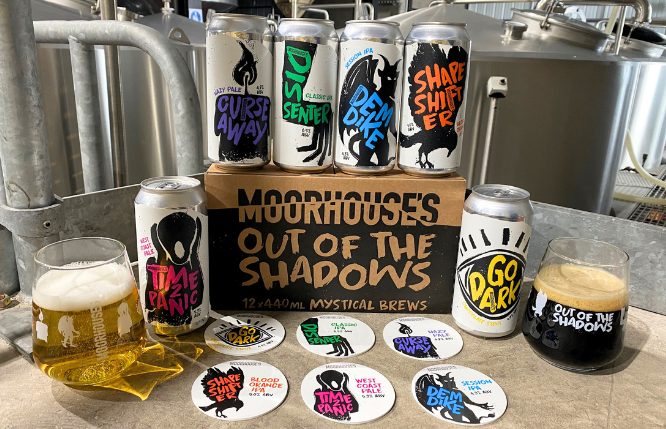 April 5, 2023
Moorhouse's Brewery Comes Out of the Shadows with Craft Beer Range
We've taken the stories and spiritual voices of Pendle Hill to another level for this range of keg and canned craft beers. All inspired by the bewitching tales of the Pendle Witch Trials and the myths and legends of Pendle Hill.
The target was to create a range of exciting new craft beers, modern in style and design, yet still retaining the great quality and taste we are known for.
And we've been working hard on our pilot kit (a 288-pint brewery if you will), to throw around ideas and have a bit of fun in order to nail down the recipes until we were completely happy with them.
The result is these first 6 craft beers and though we would say this, we think we've created a great range of beers and styles to suit everyone's tastes.
Here's the story of each beer and a little more about them.
DEMDIKE – Session IPA 4.3%
The beer originated from our Scaredy Cat on cask and with some tweaks became Moonbeam (which is now a SIBA gold medal winner), which then evolved into DEMDIKE.  A modern session IPA that uses Mosaic Cryo throughout and plenty of Cara Gold and Naked Oats for a full body. The beer name? She was the Pendle Witches matriarch, and so definitely not just a name.
Developed by Jordan, one of our brewing team, on the pilot plant. A straight up New England style pale. It has loads of body and juicy mouthfeel from a shed load of oats and bag load of Citra Cryo and Mosaic Cryo hops for that fruit cocktail explosion. The Beer Name? We swear this is what the spirits said. Mind you, we swear a lot these days!
This one came about via a collaboration with Northern Whisper a few years ago. The feedback was so good that we decided to take it and run with it. Expect dry, zingy, orangey, fruitiness! The beer name? The spirits of Pendle Hill. They morph, they appear, they speak. Hear them?
Decided to do this one the old school way. Bold hop aroma, high bitterness, citrus and piney notes and flavours. We also swerved the haze, and went classic and dropped this one bright for both can and keg. The Beer name? Not our words, but theirs. Something is spooking them on the Hill.
Originated from our pilot plant, this is a classic big hitting IPA. Brewed with Columbus, Simcoe, Cryo Citra, Mosaic & Amarillo hops for a big & complex flavour of citrus, pine and floral notes. The beer name? It's a beer for the original rebels who paid the ultimate price.
GO DARK – Chocolate Stout 4.9%
Developed from the pilot plant over a number of brews, we wanted a dry stout that was rich in roasted malts and chocolate flavour, we played around with levels of organic cacao nibs and dark choccy essence to get the effect bang on. The beer name? The Witches invented living off the grid. Is it time to disappear again?
Where to buy?
All of the above beers are available on our online shop, we've even created a couple of mix pack bundles specifically to allow people to try the different styles for home delivery.