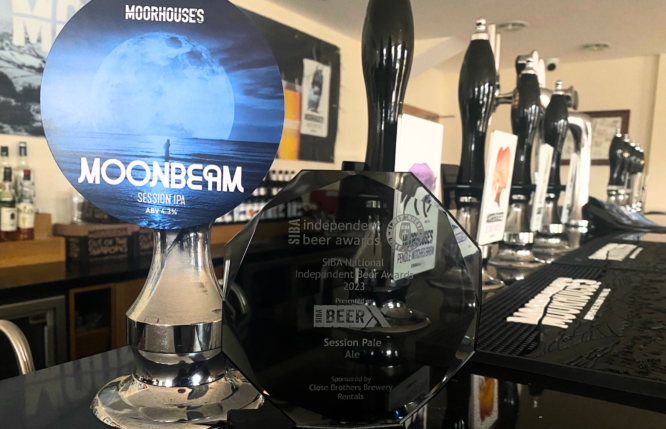 March 27, 2023
Moonbeam Shines Brightest at National Trade Competition
Moonbeam Session IPA scooped a National Gold in its category!
Well, we only went and won it! Up against the best of the best from Britain's finest independent brewers, our MOONBEAM Session IPA scooped a National Gold in its Category.
All the beers were tasted blind by the judges, and up against beers from the likes of White Horse Brewery and Pennine Brewery. We were delighted that the panel of tasting experts rated us Number 1.
It's a great accolade to the team here at the Brewery and to Dan Casaru in particular, who as head brewer came up with the winning recipe. The Mosaic hops deliver a crisp full bitterness and masses of stone fruit & tropical notes but it's the addition of four different malts that give this beer its characteristic full flavour.
So, it's officially SIBA's Best Cask Session Pale Ale for 2023 and we're going to be introducing it as a permanent beer alongside our other favourites White Witch and Blonde Witch.
So, watch out for it on bars from May this year and as always, let us know what you think with a review on Untappd.