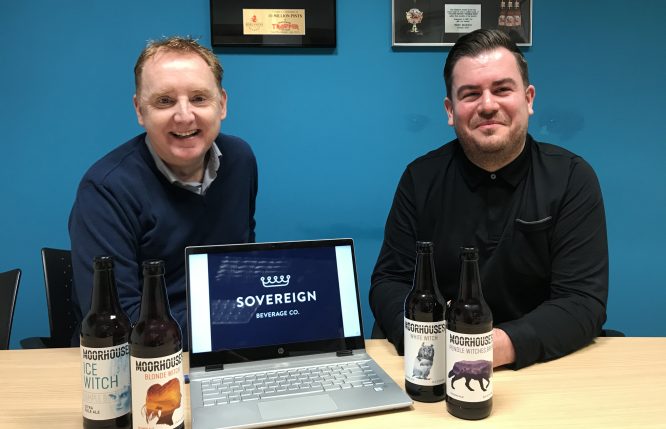 February 7, 2020
Moorhouse's Brewery appoints Sovereign Beverage Company to target overseas markets
Burnley-based Moorhouse's Brewery has appointed Blackburn's Sovereign Beverage Company as its new export agents. Sovereign's remit is to grow Moorhouse's sales around the world.
The three-year deal will initially see Sovereign target the key markets of Scandinavia, Canada, South America and the Far East. It has already secured sales in Finland. Operating in 60 countries, Sovereign Beverage Company is the UK's largest exporter of premium beverages.
The firm will be marketing Moorhouse's complete range including the newly launched Ice Witch as well as Blonde Witch which is its best-selling bottled beer.
The announcement follows the recent news that Moorhouse's is back in profit after reporting a £37,000 pre-tax profit for the last financial year compared to a pre-tax loss of £275,000 in 2018 with annual turnover remaining constant at around £4.5m.  The company is currently in year three of its turnaround plan which has seen a full rebrand of the business as well as a programme of improved efficiency initiatives.
Moorhouse's has also appointed Bacup-based James Labels & Supplies Ltd to print all its bottle labels moving forward.
Lee Williams – MD of Moorhouse's Brewery – said: "As a business, we are not just proud of the beer we brew but also working with local businesses, spending over £600k with Lancashire companies alone. Increasing our exports is a key part of our growth strategy and to have the team at Sovereign Beverage, who are experts in their field also just down from the road from us, gives us confidence we will see growth in overseas markets in the years to come."
Craig Johnstone – Head of Sales at Sovereign Beverage Company – added: "We are delighted to be working with Moorhouse's Brewery as it is such an iconic name – both here in the North West and across the country. It has a fantastic product range as well as a pedigree and history that we are sure will resonate with the importers and distributors in our target territories who are always looking for something new, unique or that has a real point of difference."